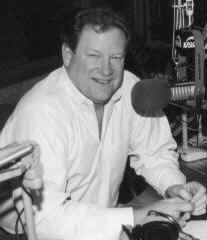 The Man Who Would Be King
Ed Schultz (aka "Mad Dog, aka "Fast Eddie") is originally from Norfolk, Virginia. Somehow he ended up at Moorhead State (MN) University in the mid-seventies and played quarterback for the Dragons football team, achieving All-American honors in 1977. After school, he went into broadcasting, working years as sports anchor for WDAY-TV in Fargo and also doing play-by-play, most notably for North Dakota State Bison football games.
Currently, Ed is host of the "News and Views" mid-day talk show on KFGO-AM in Fargo. He also does play-by-play for the recently-crowned national champion University of North Dakota football team. It is while listening to Internet broadcasts of the Sioux football games that I began jotting down my favorite Ed Schultz moments. These days, it is almost only through the Sioux games that I get to experience Ed. Though while visiting my parents during the summer I do get some Ed exposure. ("Let's see what Fast Eddie has to say," my dad will remark while turning the dial to the Mighty 790.) But I haven't lived up north full-time in almost fifteen years - think of the fun I've missed. Damn.
Here's one man's list of favorite Ed Schultz Stories:
· In the early eighties, Ed was doing play-by-play of a North Dakota/Wisconsin hockey game in Madison for WDAY. The two schools had a nasty rivalry in this era, many times erupting into fisticuffs on the ice. At this game, a brawl between players broke out. The beer garden was located adjacent to the Sioux bench, and drunken Badger fans were harassing the Sioux players. Legendary UND goon Jim Archibald left the bench and squared off with a fan. Meanwhile, Wisconsin fans were taunting the North Dakota broadcasters, inviting them to join the fray. Over the air, Ed was heard to yell regarding one Badger fan: "I'd like to take a poke at THAT bozo!!!"
· In the eighties Ed, in an affront to objective journalism, was known to wear North Dakota State Bison shirts while doing the evening sports on WDAY.
· In the late eighties, Ed was doing play-by-play of a Bison football game. Somebody seated in the student section threw a whiskey bottle at the broadcast booth. Ed left the booth, descended into the crowd, and accosted the students who he felt were the culprits. Judge, jury? Yeah, right!! I like to believe that punches were thrown, but all I remember is that NDSU students were livid in their disdain for Ed after the incident. An anti-Ed campaign ensued on campus in the following days and weeks as many students wore pins that featured a caricature of Ed's bandaged face with a line through it.
· When Ed was hired by UND to cover their football games for radio, Grand Forks Herald columnist Ryan Bakken wrote a lengthy column reminiscing on how when Ed covered rival North Dakota State, he would mock and belittle the Sioux. Bakken said UND was making a "deal with the devil" by hiring Ed.
· During this past season's last UND home football game, a sponsor was giving away turkeys to listeners. Whenever Ed saw a play he liked, he would yell: "Hey THERE'S A TURKEY PLAY! Our tenth caller at 1-800-GO-SIOUX wins one of those birds!!"
· When Ed goes to MSU alum parties; he pounds bourbon 'n' waters, trash talks crosstown rival Concordia College, and loudly excuses himself to "go shake hands with the governor." (Okay, I made this one up. But it's fun to think about.)
· It is rumored that Ed was once hunting and shot his own dog.
· During Sioux football games, whenever Ed goes to sideline reporter Jim Heilman for commentary, he says: "Whataya see down there Jimbo??"
· In the mid-eighties, on John Wheeler's first anniversary as the regular evening-news weather man, co-anchor Maureen Zimmerman (and Ed's future wife!) took a moment at the end of the six o'clock news to congratulate Wheeler on his anniversary. Co-anchor Marv Bossart also chimed in with a congratulatory word. (I suspected Wheeler was secretly Bossart's punk, but that's not important here.) Ed then proudly looked at the weather man, nodded, and said: "Good job, Wheels!"
· On September 11th, Ed was doing his radio talk show from the office of Senator Kent Conrad (D-ND) in Washington, D.C. Ed was cleared out of the building along with everyone else as the sirens went off after the Pentagon was hit. He proceeded to do the show from his cell phone, describing what was going on in Washington. He snagged interviews with Sen. Joseph Lieberman, Sen. Bob Kerrey, and Rep. Jim Ramstad. Ed also contributed reporting to a show for KOA-AM in Denver. Then a few days later because of the airline shutdowns; he rented a car, drove 20 hours cross-country, and got back to Grand Forks just in time to cover the Sioux football game.
Ed Schultz was a finalist to land the Minnesota Vikings play-by-play radio job this past summer, but didn't land the gig. Viking fans who wanted the purple-and-gold-kneepad-wearing Paul Allen to get the job would have loved the home-team enthusiasm that Ed is capable of.
You see, I had visions of Fast Eddie taking the Twin Cities by storm. Ed doing an outdoors show late-night Sundays. Ed doing a morning show on The Patriot. Mad Dog doing the ten o'clock sports news on Fox 29, coming off as a sort of poor-man's Joe Schmidt. Eddie as a Mike Max on steroids, hosting The Sports Show; repeatedly pissing off Reusse, inviting himself out to Murray's for a steak with Sid.
He could have been the Man You Love To Hate in this town. You people wouldn't have been able to handle it. It would have been beautiful.


[Back to Exiled #30] [Back to Exiled on Main Street] [Other Writing] [Poetry] [Contact Bill Tuomala]