The Wheatfield Soul Line
by Bill Tuomala

<![if !supportEmptyParas]> <![endif]>

<![if !supportEmptyParas]> <![endif]>

It may be the end of a brief-yet-quirky era of University of North Dakota Fighting Sioux hockey. Sophomore forward Travis Zajac is departing, having recently singed a contract with the New Jersey Devils of the NHL, who drafted him in the first round of 2004's entry draft. Zajac was the Sioux's leading scorer this past season and helped lead UND to consecutive Frozen Fours in his two years on the team, but obviously that isn't the quirky part. Seems Zajac and freshman forward Jonathan Toews, both Winnipeg, Manitoba natives, sing Guess Who - who also hailed from Winnipeg - songs to each other on the bench during games and during practices. In fact, coach Dave Hakstol kept them from playing on the same line so they could concentrate on hockey and not sing to each other in ongoing efforts to replicate the vocal phrasings of Burton Cummings. Before Zajac's departure, we spent some time with the duo to learn about that place where hockey and the Guess Who intersect.

<![if !supportEmptyParas]> <![endif]>

"For example," Zajac explains, "when we were in St. Paul for the WCHA Final Five and the bus would leave our hotel on the way to the rink, Toews and I would bust into 'Bus Rider.' Then in the national semifinals, when were down 5-2 to Boston College late in the second period, I looked over at Toews and sang: 'She's come undun.' When he scored in the third to pull us within two goals, he shot a 'Hang on to Your Life' back at me."

<![if !supportEmptyParas]> <![endif]>

How does the rest of the team react? "In the locker room after practice," he says, "the other guys on the team want to listen to country or hard rock. We usually try to get the first half of The Best of the Guess Who in for twenty minutes or so before somebody yanks it out. No other guys on the team are from towns with any sort of rock 'n' roll tradition so they don't quite appreciate the pride we have. Except Matt Smaby (editor's note: Smaby also recently turned pro with the NHL's Tampa Bay Lightning) is from Minneapolis and is into Lifter Puller, Atmosphere, Prince, and a bunch of those Minneapolis eighties garage/punk bands. Though for some reason he refused to listen to Lifter Puller in those days before our game with Boston College in the Frozen Four. Brian Lee is from Moorhead and is into a couple of bands from there nobody else on the team has heard of - Mile One and the Phones."

<![if !supportEmptyParas]> <![endif]>

Toews (pronounced as rhyming with "saves"), still seventeen years young even though he has one season of Sioux hockey under his belt, is an intelligent, well-spoken youth. Fluent in both English and French, he graduated a year early from the elite Shattuck-St. Mary's prep school in Faribault, Minnesota in order to get an early jump on his college hockey career. He waxes philosophical on the Guess Who.

<![if !supportEmptyParas]> <![endif]>

"Winnipeg pretty much had no rock 'n' roll scene in the late sixties. The Guess Who came along and picked up influences where they could find them and came up with a unique sound that kicked out hit after hit. They were never taken too seriously by the critics or the rock underground, but a quote from the movie Almost Famous sums it up best."

<![if !supportEmptyParas]> <![endif]>

He then points to a scribbled piece of paper taped to the inside of his locker that quotes the Lester Bangs character in that 2000 Cameron Crowe movie:

<![if !supportEmptyParas]> <![endif]>

"The Doors? Jim Morrison? He's a drunken buffoon posing as a poet. Give me the Guess Who! C'mon, they got the courage to be drunken buffoons, which makes them poetic."

<![if !supportEmptyParas]> <![endif]>

Toews continues. "The real-life Lester Bangs was a fascinating writer. I started reading his stuff after I saw that movie, in which his character wore a Guess Who teeshirt. He wrote a hilarious, brilliant review of The Guess Who Live at the Paramount for Creem magazine in the early seventies that I've read a dozen times and I'm still not sure if he liked them or hated them. But by the end, he had called them 'true punk' so I guess he liked them."

<![if !supportEmptyParas]> <![endif]>

When Zajac interrupts to quiz him on how to explain his sniper's ability to put the puck in the exact few inches of the opposing goal that he wishes, Toews suppresses a smile and quietly sings: "These eyes ... "

<![if !supportEmptyParas]> <![endif]>

In March, rumors abounded that the duo were singing "Laughing" during Sioux pre-game warm-ups after unheralded Holy Cross's "Biggest College Hockey Upset Ever" win over UND's hated rival Minnesota in the Western Regional's opening game in Grand Forks, where the Sioux were playing the second game of the regional.

<![if !supportEmptyParas]> <![endif]>

"NO WAY!" interjects Zajac. "We still had to take care of business that night against Michigan and then would have had to win the next night to get to the Frozen Four. Besides, we only sing 'Laughing' in practice to our own teammates when we're having fun with 'em."

<![if !supportEmptyParas]> <![endif]>

Sometimes, though, it doesn't help that the Guess Who's songs have become staples on classic rock and oldies radio. As the final seconds ticked off the clock during UND's Frozen Four loss to Boston College, Zajac and Toews swear they heard BC players sing: "No time left for you ..."

<![if !supportEmptyParas]> <![endif]>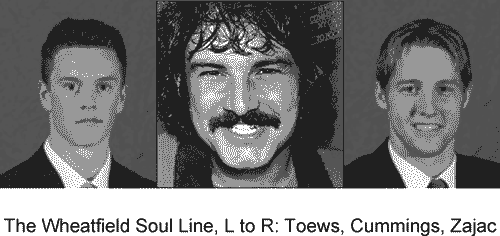 And just when you thought the Guess Who fixation was only a mild oddity, Zajac plainly states: "Our dream is to play on a line with Burton Cummings. He would center, of course, with his face-off skills matching his vocal prowess. I'd be on right wing and Toews would be on the left. We'd call it 'The Wheatfield Soul Line.'"
<![if !supportEmptyParas]> <![endif]>
But with Zajac's turning pro and the possibility of Toews departing - he is a projected top-three pick in this summer's NHL entry draft - the Guess Who hijinks have come to a close at Engelstad Arena. Then again, a new Winnipegian (Winnipeger?) is coming in next fall - Zajac's brother Darcy. Is he up on his Guess Who? "Please," Zajac simply says, as if the question were ridiculous. So if Toews stays, could it be: 2006-07 Fighting Sioux hockey ... the imaginary Wheatfield Soul Line redux?
<![if !supportEmptyParas]> <![endif]>